The Herbal Tarot
This vibrantly colored deck is designed to integrate the healing properties of traditional herbs with the esoteric symbolism of tarot. Herbal Tarot follows the general assignments of the Rider-Waite deck, but each card is assigned an individual medicinal herb based upon intuition, astrological and energetic values.  A different herb is pictured and identified on each card. 
The deck was drawn by artist Candice Cantin under the direction of herbalist Michael Tierra. According to the creators, "The Herbal Tarot is a tool for studying the psycho-physical energy of herbs. Herbs, when joined with the tarot, can provide a symbolic material manifestation to accompany a specific divination. This will encourage communication with the subconscious for which the tarot cards are especially powerful."
The symmetric card backs feature sprigs of rosemary. The booklet gives both upright and reversed meanings.
Candis Cantin is an herbalist, a wholistic counselor, and a teacher of the herbal path. She has studied Ayurvedic, Chinese, European, and Native American traditions of herbal healing.
Michael Tierra is a certified acupuncturist, an herbalist, a naturopath, and a spiritual counselor. He has studied herbs in China, India, and with Native Americans. He is the author of The Way of the Herbs.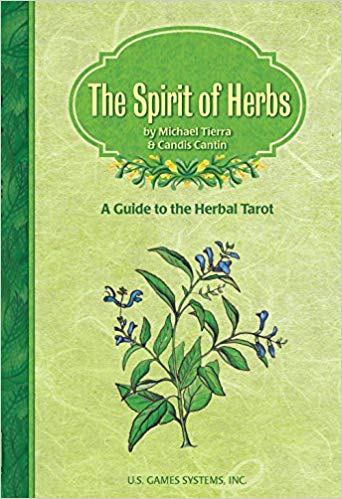 A comprehensive guidebook of Herbal Tarot is now available as e-book on
Specs
SKU

HE78

Weight

0.71 lb(s)

ISBN

978-0-88079-332-2

Size

Cards measure 2.75" x 4.75"

Language

EN

Author

Michael Tierra and Candis Cantin

Artist

Michael Tierra and Candis Cantin
What Customers Are Saying About The Herbal Tarot
The Herbal deck is beautifully illustrated. For example, the backs of the cards have a sea-green background with a rosemary border. As if marking elemental corners, there are four eight-petal flowers in blue, as well as two red ladybugs and two white flowers. The illustration of the cards themselves are done with the traditional meaning attributed, but also with the herb/plant/flower which attunes to the card. I find this to be even more helpful in understanding the meaning of particular cards. For example, the Tower is represented with garlic, Knight of Wands by aconite, Four of Swords by mullein, Ace of Wands by yarrow. Each of these adds an additional "feel" to the cards that I find are not present in traditional decks. I would recommend that anyone who is interested in both the Tarot and herbs to seek out this deck.
-- Maiden, on Aeclectic Tarot
---
I do a lot of readings for other people and Herbal Tarot remains one of my favorite decks. I long ago lost the little booklet that came with the deck, nor did I purchase a set with a detailed book. Instead I cross-reference this deck with my large herbal reference book. It has given me startling insights into the physical health of those I'm reading for. In addition, the magical and mythical backgrounds of the herbs add an extra dimension to the reading. I typically follow the same card interpretations that I would with any other deck and read intuitively, but I find that the herbs add so much. I feel I see the whole picture with this deck.
-- Nevada Sierra, on Amazon
---
What a lovely deck this is! Herbal Tarot makes you feel good to even use it. Based on the original Rider-Waite deck with an earthy twist! I recommend this deck to all nature & plant fanciers and especially herbal growers and lovers everywhere!
-- Violet Tea, on Amazon
---
This is a wonderful deck if you're new to tarot or are a person who gives "readings". The pictures of herbs are attractive and I have found that even those who are normally uncomfortable with using the Tarot can use this deck and for those getting a reading they are delightfully surprised at how "pretty" the deck is and may relax and enjoy the reading more. It boils down to this ... If you're a beginner the nice clear instructions and interpretations will appeal ... if you've been at this awhile then you know how to interpret on your own and can just enjoy the simple beauty of the pictures. Basic info on herbs and pictures of the herbs are included along with the interpretations. This is just an all around nice deck ... one that, although I have many others since I collect them, after many years I still continue to return to as my favorite. :-)
-- A.C., on Amazon
---
I learned from a friend with this deck and loved it. I thought the pictures were very clear & revealing. I liked how the herbal remedies overlapped & brought meaning with the readings. The descriptions seemed right on and very accurate. They definitely were very insightful. I'm addicted.
-- Heather, on Good Reads
Report a problem