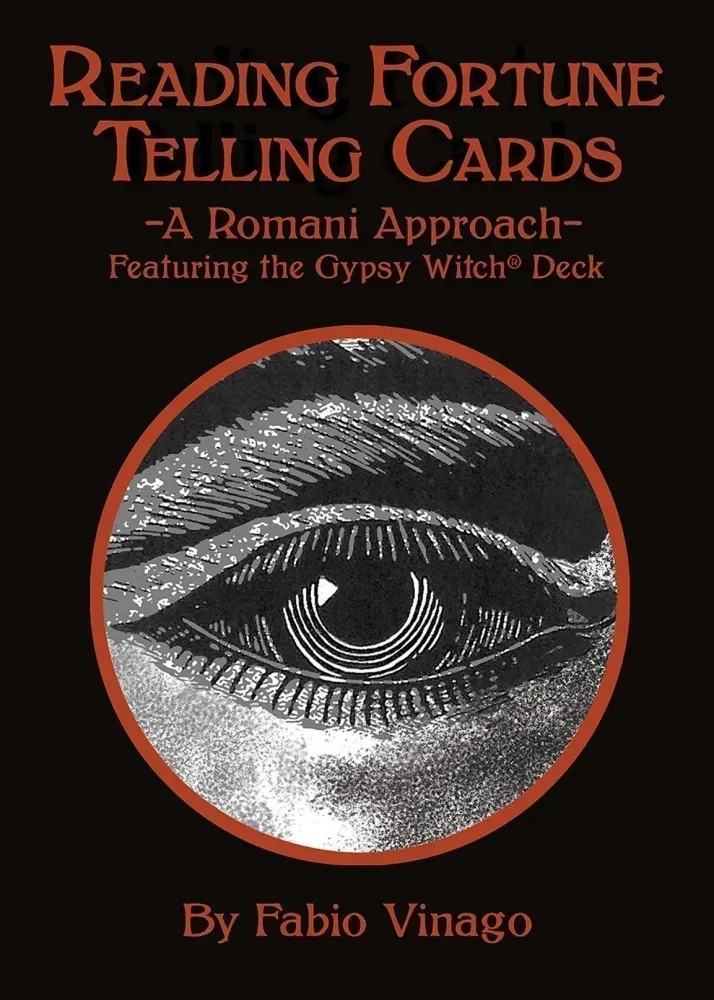 Reading Fortune Telling Cards (Book): A Romani Approach
Book only
Romani culture has long been associated with and admired for extraordinary fortune-telling skills. This first-of-its-kind book traces the development of the Romani cartomancy tradition. With illustrations from the Gypsy Witch® Fortune Telling Playing Cards, expert instruction is given on the fascinating method of reading the deck, which combines traditional card inserts with unique symbolic images. Meanings and keywords are given for each individual card as well as for various card combinations. Fabio Vinago also provides detailed instructions for simple and complex spreads, including the Grand Tableau. For all levels of readers this comprehensive book provides a wealth of information on the art of reading fortune telling cards.
For the Deck & Book Set, see Reading Fortune Telling Cards Deck & Book Set
Specs
SKU

BK247

Weight

0.5 lb(s)

ISBN

978-1-64671-050-8

Size

Book, 5" x 7", 128pp., b&w illus., pb

Language

EN

Author

Fabio Vinago
You Might Also Like
Reproduction Vintage deck of 52 cards with miniature cards in the upper left corners.
What Customers Are Saying About Reading Fortune Telling Cards (Book): A Romani Approach
Keywords...A Romani approach...The author states, "You should see your card reading as something that widens your horizons as well as that of the querent's." The Romani want to differentiate themselves and leave their mark... I love the Gypsy Witch deck for sentimental reasons. This book is clear and does not over promise. The author is precise and knowledgeable. Perhaps he will follow up with something about the numbering system (1 the sun, 2 the moon…).
—Bonnie D.
---
I became intrigued by the Gypsy Witch Fortune Telling Cards after watching a Youtube video by Emilie Muniz. I had known about them for years but frankly I never took them seriously till I saw that video. Then I bought them, sought out a guidebook to supplement the very scant information in the booklet that comes with the cards, and lo and behold, discovered this book.

It goes into quite a bit of depth. The author gives the meanings for the card images as well as the playing-card suits on the cards, and card combinations. A number of spreads are given. The only thing I would add is that some of the author's descriptions of card meanings differ somewhat from those printed on the cards themselves. But it's not a big deal; you can decide what resonates with your intuition and use that. Apparently the author has an actual practice giving readings with these cards, which I found both surprising and inspiring. I am taking them much more seriously now and they really do have a lot more depth than the silly orange package and silly purple witch image on the card backs would convey (I wish they'd re-do that!!) If you use the Gypsy Witch Oracle Cards, you need this book!
—Gypsygirl, Amazon customer
---
This book has actually been out for three years, but until now was only available in Dutch. The English version is finally here and was absolutely worth waiting for, IMO. It's not an exhaustive work by any means, and not even all that long, just an introductory volume. But it is thorough and covers everything: a brief history, the individual cards themselves, the various reading principles, working with spreads; there is even a short section that covers individual card combinations.
The author also goes into what *not* to do, and why, as he explains the usual way forward, even while allowing for individual variations in reading styles. I personally appreciated this instructive approach since I am not a visual or overly intuitive reader. As an entry level introduction to reading Gypsy cards, I couldn't ask for more.
Also, the translation itself is quite good, with no glaring errors or broken English. It was easy to read, very understandable, and definitely gave me a lot to go forward with in using Gypsy cards.
So if you're looking to understand the Gypsy card system and it is not intuitive to you, this is an excellent resource and a great place to start. I've been hoping to snag a copy of this for over a year, and was not disappointed.
Also, this is physically published by US Games and is not a crappy print-on-demand version: bonus. Never thought I'd be so grateful for the quality of a standard paperback binding, but this was a very pleasant surprise.
(Oh, and it was shrinkwrapped in plastic too, so it didn't bounce around half open in the box: it arrived completely undamaged, not so much as a scuff. Much appreciated.)
Overall, very nicely done. Thanks, US Games!
—Chris, Amazon customer
Report a problem